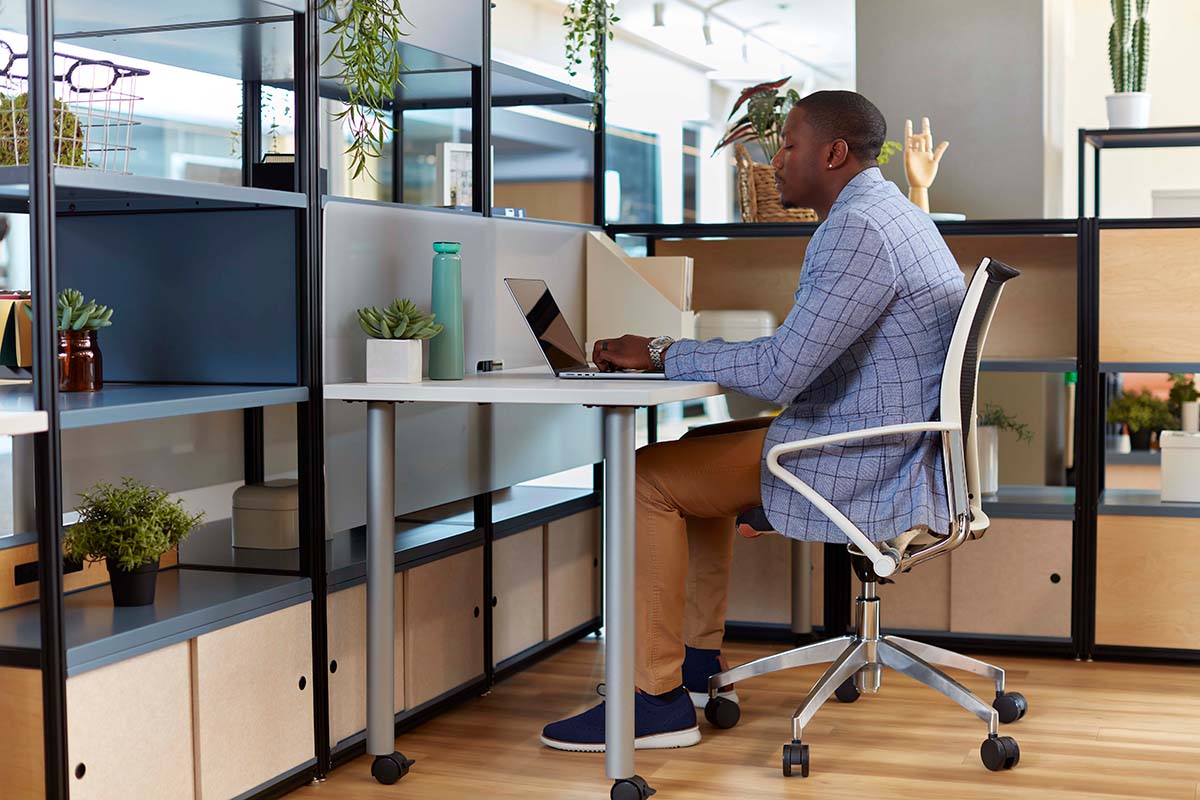 Drive Better Outcomes Through Behavioral Design
Two years into the pandemic and the labor situation in the US has become an employee's market. Today, knowledge workers have grown accustomed to working wherever they want, whenever they want, in response to conditions created by the widespread outbreak. This has caused organizations to shift their perspective about the workplace—prompting them to evolve to become destinations of choice that better attract and retain talent.
Work Behaviors
But becoming a destination of choice doesn't have to involve adding foosball tables or a smoothie bar to your workplace. Aside from receiving fair compensation and competitive benefits, workers want to be ensured that their fundamental needs are being met and that they are being well-supported to perform their jobs. This calls for creating inspiring workspaces that address all the behaviors of work—one that balances independent work and learning along with personal connection and engagement.
For over 55 years, SAFCO has paid close attention to what people need to be effective in the workplace. This has allowed us to identify people's behavioral needs and activities as they successfully work alone and together. Our research has found that the four primary activities that drive progress and productivity within organizations are the ability to focus, learn, share, and create.

Being able to concentrate and contemplate is what most employees cited as being the primary advantage of working from home. To appropriately support this crucial work behavior and bring employees back into the workplace, organizations must provide areas that allow for distraction-free downtime and concentration.
This does not mean every employee has to have a private office. A more sound design strategy would incorporate a mix of enclosed spaces and designated quiet nooks that enable heads-down individual work or focused engagement with others to accomplish goals.

According to the Harvard Business Review, organizations with a strong learning culture are 52% more productive and experience engagement and retention rates 30-50% higher than their peers.
Businesses everywhere are in pursuit of a highly engaged workforce. Countless workplace surveys have shown that highly engaged employees are motivated by and actively participate in growth and development opportunities at work.
To stimulate learning activities and facilitate information sharing, workplaces should provide adaptable spaces designed to support knowledge transfer and interactive learning in various forms, whether that involves live instruction with a large group or a smaller mix of in-person and virtual participants. These spaces need to prioritize comfort and flexibility to accommodate all the ways workers gather information and grow their knowledge.

One of the primary reasons workers consider the physical workplace as still relevant to their success is the opportunity to see and be seen. People are inherently social creatures and appreciate occasions to connect and converse face-to-face. They want to be able to share a part of themselves with others and forge necessary bonds. And this type of social connection and its impact on belonging matter to employers as well.
According to Deloitte's Human Capital Trends 2021 report, 73% of organizations stated that fostering a sense of belong was important to their success, with 93% agreeing that it drives organizational performance.
The workplace can support these vital activities by offering vibrant spaces that encourage spontaneous interaction. Access to inviting lounge areas, break rooms, and common spaces increases opportunities for workers to come together and establish a sense of community with each other.

It's widely recognized that the best ideas don't develop in a vacuum.
That's why 94% of organizations feel that the physical office's ability to enable effective collaboration is considerably important, according to a PwC Emerging Trends in Real Estate 2022 survey.
For workers to make new discoveries or develop the ideas that propel businesses forward, they need to be supported with spaces that facilitate collaboration, exploration, and creation. And while conference rooms can and do serve this purpose, the integration of more inspiring meeting spaces and maker spaces can go a long way in fostering the act of creation between multiple people or individuals.